News stories
Keep up to date with what government, industry and individuals are doing to help transform the sector.
On this page
Construction Sector Transformation Plan to lift sector productivity (external link)
26 January 2020
A joint industry and government action plan to transform the construction sector was announced today by the Building and Construction Minister Jenny Salesa.
---
1 November 2019
MATES In Construction formally launched this week to improve awareness of the significance of suicide in the construction industry.
---
New Construction Procurement Guidelines to promote better practices
11 October 2019
New Construction Procurement Guidelines were jointly announced by the Economic Development Minister Phil Twyford and Building and Construction Minister Jenny Salesa.
---
11 October 2019
CHASNZ has launched two new guides for the sector — Mental Health in Construction: Information for Managers, and a simple pocket guide that all workers can carry with them. The intent is to normalise conversations about mental health and create a more supportive workplace.
---
2019 Building and construction pipeline report released(external link)
4 September 2019
Improving the visibility of the construction pipeline has emerged as an important issue for the Construction Sector Accord and for achieving sector transformation. MBIE today released the 2019 National Construction Pipeline Report which forecasts construction activity over the next six years and supports better planning in the sector.
---
Construction contracts under the microscope
2 September 2019
The Construction Sector Accord programme is helping to tackle the 'culture of mistrust' identified in a recent Treasury report into the use of standard contracts in construction.
---
Infrastructure Pipeline launched(external link)
9 May 2019
The Government has published a prototype Infrastructure Pipeline, to show what projects will be delivered by major central government agencies over the next five years.
---
Innovate, Partner, Build — a better way to work with industry
15 April 2019
Housing New Zealand is creating new way of working more smartly with the construction industry through their Innovate, Partner, Build programme.
---
Government and industry sign Construction Sector Accord(external link)
14 April 2019
Government and construction industry leaders have today signalled a shared commitment to transform New Zealand's construction sector.
---
Accord set to change 'rules of the game' in construction industry
14 April 2019
Building industry leaders today welcomed the signing of an agreement with government that provides a platform to reinvent the construction sector, and improve its ability to contribute to the economic prosperity and wellbeing of New Zealanders.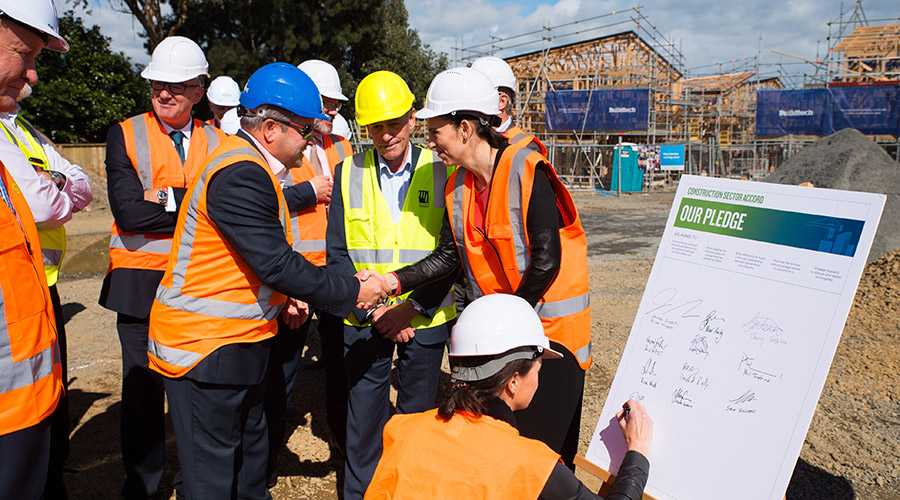 Last updated: 26 January 2020