State of the sector
Find out the current state of the construction sector, including the impact of COVID-19.
On this page
Construction is an important part of New Zealand's economy
Construction employs around 10 per cent of the national workforce and contributes seven per cent of New Zealand's GDP.
The sector has seen a steady growth in business numbers. There is a consistent growth in establishment of new construction companies compared to destruction of existing ones.
Who is in the construction sector workforce?
Construction employees are spread across the country:
34% - Auckland
15% - Canterbury
10% - Waikato
9% - Wellington
32% - across other regions.
Proportion of construction sector workforce in managerial positions by sub-group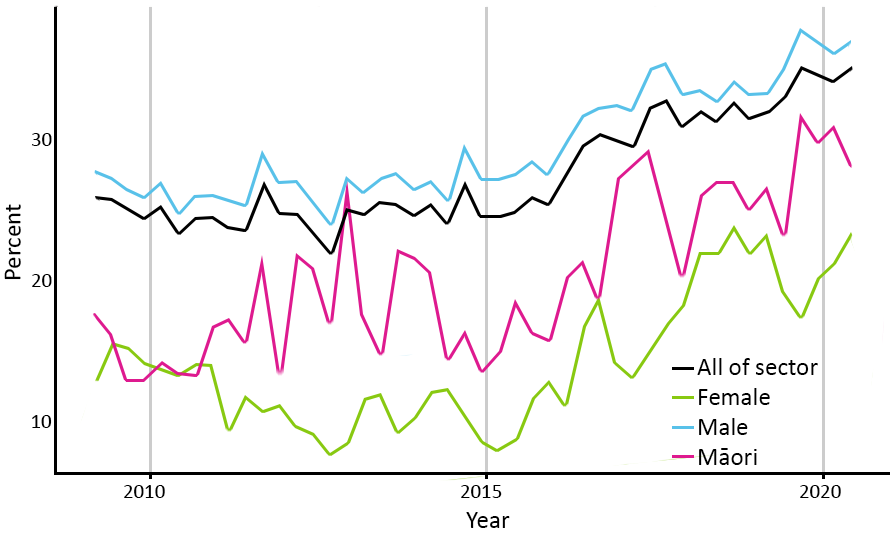 Recruiting certain skilled professionals remains an ongoing challenge for construction businesses. At the end of 2018, 6.4 per cent of workers were on working visas, up from 1.2 per cent at the end of 2012.
Women remain underrepresented in the construction industry but the proportion is slowly growing, from 11.7 per cent in 2010 to 13.5 per cent in 2020.
Over the past five years the proportion of women and Māori in managerial positions has slowly increased. However, the absolute number of these groups in management remains low.
Over a quarter of all Māori owned businesses in New Zealand operate in the construction sector (2,400 businesses).
52 per cent of those in the industry that die by suicide presented with no previous mental health problems - it is six times more likely to lose someone to suicide than to a workplace accident.
What's in the construction pipeline?
A large proportion of government projects are in the planning stage, suggesting a healthy longer-term pipeline of work. Reportedly, the outlook for the residential construction pipeline is more mixed. About 4,600 projects have been delayed due to the impacts of COVID-19, which include high demand for contractors, decrease in building supplies and reduced productivity.
The recent growth of activity in the sector has resulted in a steady increase in annual carbon emissions.
Status of government procurement projects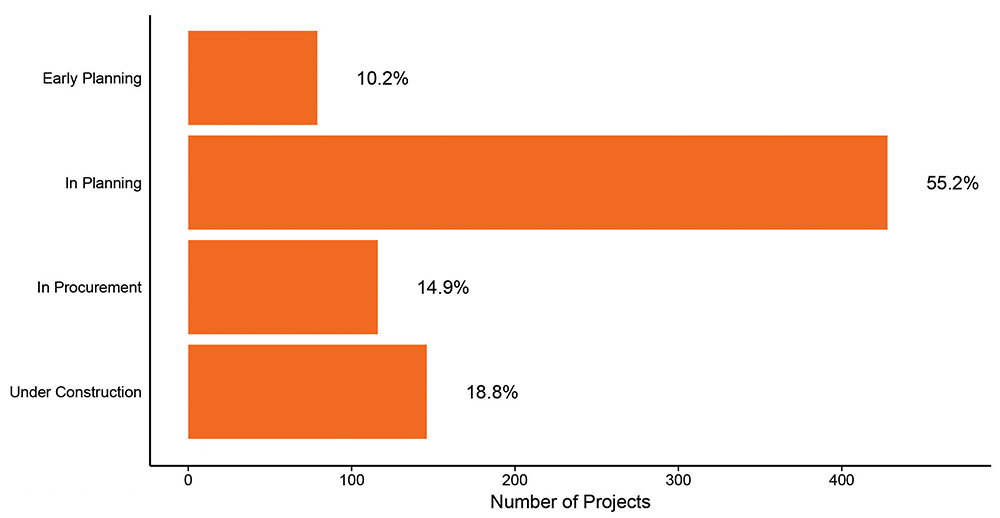 Covid-19 had significant impacts on the construction sector, but there are some signs of recovery
The October 2020 quarter saw a 28 per cent decrease in the construction sector's GDP compared to the same quarter in 2019, mainly due to a decrease in activity under Alert Level 4.
Over 200,000 unique construction sector jobs were supported by the COVID-19 Wage Subsidy – virtually the entire sector. This support enabled construction firms to retain staff and return to work when it was safe to do so. Only 36 per cent of construction roles required support from the Wage Subsidy Extension and 8 per cent from the Resurgence Wage Subsidy – indicating that the sector was predominantly back to work in Alert Levels 2 and 3.
Business confidence is rebounding after Covid-19 impacts
There was a significant drop in business confidence, hiring intentions and construction intentions during and immediately following Alert Level 4. However, more recent data suggests a shift in sentiment.
Hiring intentions are net 0, indicating around half of the sector expects to take on new employees.
Hiring intentions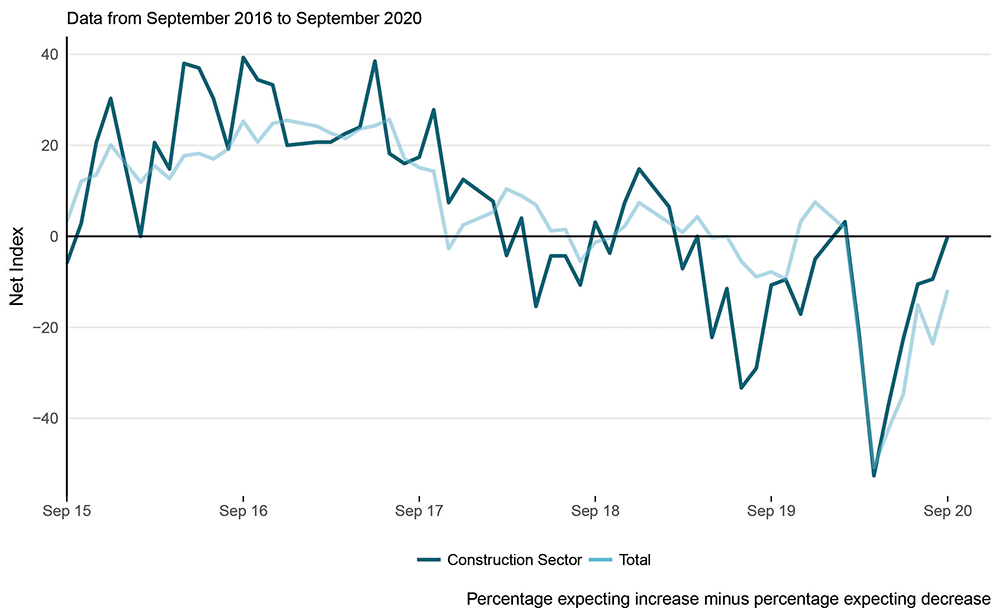 53% of the sector think that the New Zealand construction sector is positioned better than most sectors to cope post COVID-19.
NET 7% of construction sector firms expect an improvement in the economy over the coming months.
The sector is becoming more resilient to the impacts of COVID-19. Evidence indicates there was not a significant drop in sector sentiment or hiring and construction intentions following the August Alert Level increase in Auckland.
Residential construction intentions remain high
More than 10,000 new homes were consented during the May to July 2020 period – the largest three month rolling total since the 1970s. Despite the high number of consents issued, across the COVID-19 period the value of residential consents has declined approximately 38 per cent, while the value of non-residential consents has declined 44 per cent.
Promisingly, the value of issued building consents are beginning to rebound. The value of building consents issued in Auckland hit a record $1.039 billion in the month of September 2020, with more than $700 million coming from residential projects. The average processing time for building consents has generally trended downwards in 2020 for both commercial and residential applications.
Last updated: 17 December 2020