Sector Context
The construction sector has faced many challenges over the past 12 months.
On this page
Despite economic uncertainty being a constant source of tension, the sector has remained fairly buoyant over the past year. Construction demand is now easing after a period of record high residential consent numbers. While reduced demand is helping to ease labour and supply chain woes, concerns about insolvencies are rising. Climate change has been another major source of worry, following the devastating North Island floods.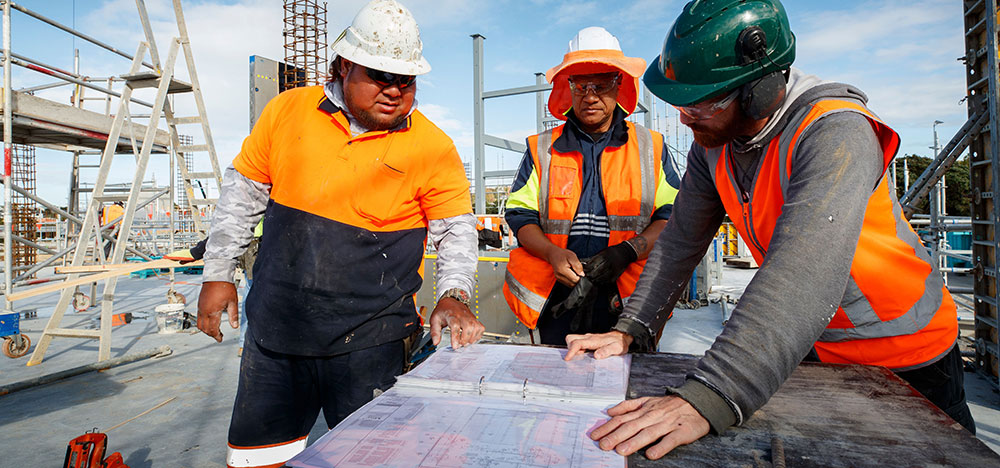 The construction sector is a significant contributor to our economy
Building and construction is the country's third largest employer. The total number of people employed in the sector has followed an upward trend over the last ten years, from 166,700 in December 2012 to 306,000 in December 2022. Across this period, the construction sector increased from 7.7 percent to 10.7 percent of the total workforce. The sector contributed $18.6 billion dollars (in 2009/2010 prices) to New Zealand's gross domestic product (GDP) for the year ended March 2022. This is 6.9 percent of total GDP(external link) - stats.govt.nz
After a booming period, building activity is starting to come down
After reaching record highs, building consents have started to slow. The number of residential dwellings consented has followed an upwards trend over the past decade, peaking at 50,736 building consents in the year ended June 2022. However, residential building consents have started to decline over the past few months. December 2022 saw 3,457 new consents, the lowest monthly figure since January 2022(external link) - stats.govt.nz
Commercial and infrastructure construction have faced similarly high levels of demand. The value of non-residential building activity in the year ended June 2022 was 8.1 percent higher than in the year ended June 2021(external link) - mbie.govt.nz. Te Waihanga reported that the value of infrastructure projects in the National Infrastructure Pipeline increased from $69.2 billion in March 2022 to $72.6 billion in June 2022(external link) - mbie.govt.nz.
Government intervention has helped buoy the sector over recent years. As a major construction client, the government has increased its investment in infrastructure and public housing. Monetary and fiscal policy decisions, particularly those made during the Covid-19 pandemic, also contributed to high levels of demand.
Record high levels of demand have been outstripping the sector's capacity. A slowdown in activity may help relieve some pressure and bring demand back into equilibrium with supply. However, a slowdown could also transition into a downturn with more damaging effects on the sector. To better meet construction demand in the future, government and industry have been doing lots of work to build skills and capacity within the sector.
Labour shortages and supply chain disruptions have eased
Construction businesses have struggled with supply chain issues in recent years. New Zealand is heavily reliant on imported building materials and is sensitive to international economic trends. Shortly after the first wave of global Covid-19 lockdowns, international supply chains deteriorated. This contributed to building product shortages, cost escalations and delays. After a 45 percent increase over the last two years, product prices have started to stabilise as global pressures lessen and inventories improve(external link) -eboss.co.nz. However, while a small number of product suppliers have reduced prices, most products remain more expensive than they were two years ago.
This recent supply chain disruption prompted the Government to ask the Commerce Commission to investigate the residential building supply market. In its final report, the commission found that competition for the supply and acquisition of key building supplies was not working as well as it could. In response to the commission's recommendations, the government will monitor and publish the prices of key building supplies, provide guidance to support builders and councils to make good decisions on alternative equivalent products, and drive the uptake of offsite manufacturing to improve productivity and competition.
With border closures effectively cutting off access to migrant labour, Covid-19 also exacerbated the sector's chronic skills and labour shortages. In acknowledgement of the sector's labour problems, the Immigration Rebalance created specific pathways for migrant construction workers, including a green list of highly-skilled occupations and a construction and infrastructure sector agreement to provide access to specified lower-paid roles. Since the re-opening of borders and resetting of immigration settings, skilled construction workers have started to come back to the country. From July 2022 to May 2023, New Zealand welcomed 5,411 builders, 2,411 carpenters, and 691 scaffolders from overseas.
Despite the growth in the workforce and a softening in construction demand, the sector is still facing significant labour shortages and high labour costs. Labour market pressures will continue to persist, especially in parts of the North Island that will need a significant amount of construction rebuild work following the severe weather events earlier this year. That's why the construction sector cannot view immigration as a silver bullet solution. The sector will need to continue attracting, training and retaining a strong domestic workforce.
Economic uncertainty and inflationary pressures have impacted business confidence
High interest rates and economic uncertainty, coupled with challenges around the supply chain, labour market and falling construction demand, have impacted business confidence. Current levels of business confidence are similar to levels following the March 2020 Covid-19 lockdown. While low, it is important to note that business confidence for the construction sector continues to follow levels of confidence for all industries.
The economy briefly fell into a technical recession in June 2023, which sparked concerns around insolvencies and potential layoffs. Construction business insolvencies have increased by 75 percent in the year ending April 2023 compared to the year ending in April 2022. While this is a concerning trend, it is worth noting that the total overall number of construction companies is increasing, and only 0.47 percent of construction companies have gone into liquidation. In April 2023, the Government made amendments to the Construction Contracts Act 2002 to further strengthen the protections for retention money withheld under commercial construction contracts. These changes provide greater security for sub-contractors in the face of potential insolvencies.
Climate change is an ever-growing concern
The severe weather events at the beginning of 2023 created significant disruptions across the country, including flooding, damage to homes, buildings and infrastructure, and worst of all, loss of lives. The construction sector will play an important role in the rebuild of the affected regions, but given the widespread scale of damage, the road to recovery will be a marathon rather than a sprint.
With severe weather events becoming a more and more frequent occurrence in our lives, the sector needs to be asking itself vital questions about climate change, including what it can do to reduce emissions and how it can ensure our homes, buildings and infrastructure are future-proofed for a changing climate.
Last updated: 26 October 2023