Construction MIQ closes after helping hundreds
Nearly 600 people were approved to enter New Zealand via the now-closed construction group allocation for Managed Isolation and Quarantine (MIQ), and seven of them helped save a new Hamilton company from possible disaster.
On this page
Saveboard(external link) manufactures wallboard from plastic waste at a newly-built factory in Hamilton, one of only 10 similar facilities in the world. When at full capacity it will help divert 4000 tonnes of plastic waste away from landfill every year. However, in mid-2021 chief executive Paul Charteris had a big problem: he needed particular skills to start the operation and the borders were closed.

"It's a specialist bit of equipment, there's none in the Southern Hemisphere, it's not something you can just give to someone to bolt together and make it work. We really needed specialists from the Czech Republic and America to help install it. We were kind of freaking out about how we were going to make it happen," says Paul.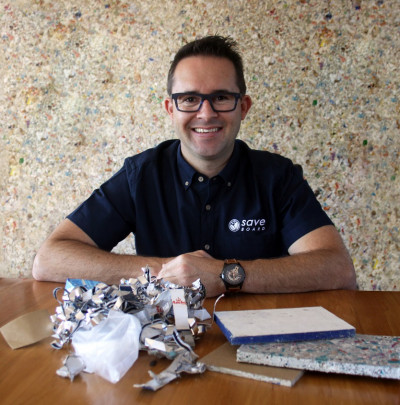 Paul tried the MIQ lottery, he even considered the 'bots' that were being used to game the system, and then he heard about the Construction Sector Accord and the construction group allocation for MIQ.
"I had some really great helpful people at the Construction Accord to help me through the process and ultimately I was lucky enough to be awarded seven MIQ spots in October."
It was perfect timing. The equipment arrived in late October, around the same time his Czech and American specialists came out of MIQ.
"Without those spots I won't say I wouldn't have got something going but it would have taken a whole lot longer and probably a whole lot more money and may not have had the same outcome. So I was definitely a very happy chappie I ordered those MIQ spots!"
The seven Saveboard workers were among 572 essential workers and their family members who were approved to enter New Zealand to fill critical roles in the construction industry between August 2021 and March 2022.
Auckland's City Rail Link (CRL) project also made use of the allocation. CRL Chief Executive Dr Sean Sweeney says it was extremely important.
"We have a number of critical workers from overseas. For them to be able to visit partners and children living in other countries and then return to New Zealand helped CRL retain key staff long-term and to also maintain construction momentum on a project that is significant economically for the country," says Dr Sweeney.
The Accord facilitated industry discussion with the government to secure the allocation, which was announced in May 2021. The 60 places per month (reduced to 40 in February) were then managed by the Accord and an industry panel of representatives from the Association of Consulting and Engineering NZ (ACENZ), Master Builders Association, Civil Contractors NZ and NZ Institute of Architects.
"This has been a very difficult time for our sector and our country, and the construction MIQ group allocation went some way towards alleviating the intense pressure businesses are under. It was at times very difficult to make hard calls on who got a spot and who didn't, but it was a very rewarding process to be part of," says Helen Davidson of ACENZ on behalf of the industry panel.
With the announcement of the Reconnecting New Zealand programme, the MIQ construction group allocation is now closed. From 13 March most construction group travellers will be eligible to enter New Zealand without the need to stay in MIQ facilities.
Reconnecting New Zealanders to the World(external link) - covid19.govt.nz
Last updated: 30 March 2022